Quickly pays for itself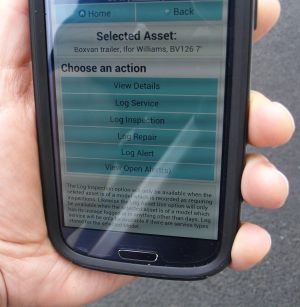 Value – It's an efficient little bit of software, so our prices are considerably cheaper than our competitors' offerings.
Quick start – Nothing to install, and it's free to set up an account, so you can try before you buy (see our costs page). Easy to use, with intuitive navigation, on-screen instructions, and brief online video "how-to" guides.
Streamline processes – Improve operational efficiency. Engineers have easy access to all the information they need, allowing them to prioritise and organise themselves properly. Automatic scheduling helps prevent the untimely demise of your assets, as well as preventing over-zealous servicing.
Control risks and costs – Helps prevent expensive accidents.
Prioritise actions – Your staff log any problems they encounter into the system, setting target-dates and categorising the importance of each issue. The system automatically prioritises these "alerts", so that the most important and urgent matters get dealt with first.
Import existing data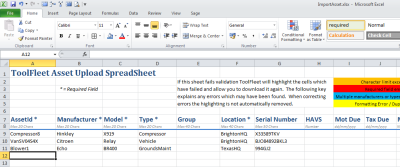 To lessen the pain of setting-up your data at the outset, ToolFleet has a "batch upload" facility. Importing information into the system is much quicker this way, than doing it one asset at a time (especially if you already have your assets listed in a database or spreadsheet). The batch-import system uses an Excel (.xlsx, or Excel 2007 onward) spreadsheet template, which you simply populate with your data (eg, by copy-and-paste), then upload straight into the database (your data will be error-checked on its way in, and any problems automatically highlighted before import).
Intuitive to use
There is a two-minute introductory video that we recommend all new users watch before they begin with ToolFleet. However, thanks to on-screen prompts, intuitive navigation etc, your staff should be able to dive straight in without any other special training. There are a number of resources available on-line to help your staff get the most out of the application.
One-click sort and filter
Asset-lists can be sorted by category – simply click once on a category header. Couldn't be easier!
Sort and categorise assets by location, type, manufacturer, model, user or team, as well as by a user-definable "group", by the asset ID itself, or an indiction of whether the asset is "in use" or not.
The user-defined "groups" can be used for virtually any purpose you can think of, such as multiple sub-assets within a larger system, or to define unusual purposes or attributes.
Download your data at any time
Backups of your data are quick and easy, downloaded in Excel format. Having your data in Excel format allows you to manipulate your data offline as you see fit, to create custom reports and the like.
Having an asset's full service and repair history at your fingertips will be extremely handy for audits (eg, ISO 9001:2008, OHSAS 18001, ISO 14001), or when passing an asset on to someone else.
We back-up all the data stored on ToolFleet regularly, but having your own local copy could be handy to see you through for a short period, if your internet unexpectedly goes down. So, we encourage you to take your own backups as well.
Upload your own logo
Your company name, and logo, will appear at the top of each screen.
Track employee vibration exposure
The system can display "safe" Hand Arm Vibration (HAVS) exposure limits for each asset. Users log their HAVS records into the system each day. This helps you prove you've controlled HAVS risks effectively, safeguarding against litigation if someone develops 'whitefinger' later in life.
Schedule and prioritise
As well as servicing / repairs / inspections to vehicles and machinery, ToolFleet can be used to deal with less obvious types of events (either recurring or one-off). Examples include:
Premises fire-safety inspections.
Flagging up and recording staff refresher training.
Risk assessment renewals.