Alerts are raised when you find items in need of repair or attention.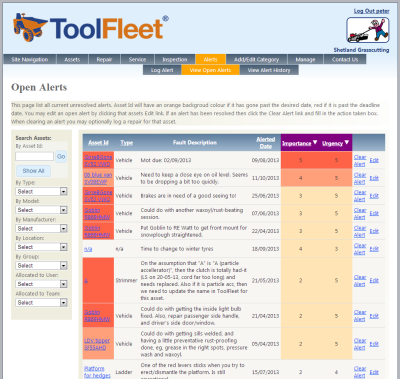 For example, you may have done an inspection or service, and found a defect. As well as logging the inspection / service, you need to raise an 'alert'.
Alerts help your engineers to organise their workload. By having all your current issues stored in ToolFleet, you can tell at a glance what's needing done where / when.
Assign importance, target date, and a deadline, to each alert:
Importance. This is on a scale of 1 to 5. Five is "critical", and should only be used for the most important issues. 1 is the least important, for minor issues. Unless as issue is really important, you'd be advised to give it a low 'importance' rating, so that critical issues appear at the top of the list.
Target date. This is when you would realistically hope that the repair or remedy might take place by. It's important to be realistic when setting your target dates, so that jobs which are REALLY urgent get seen to first. If it's not urgent, then the target date should be set on as far ahead as it can reasonably wait.
Deadline. This is the "no-later-than" cut-off date, by which point the issue MUST be resolved.
It's possible to raise an "alert" from within either the "log service" or "log inspection" screen.
Note – an alert should also be raised whenever you only do part of a service or inspection. In this instance, log the service or inspection, but indicate by inserting a comment in both the inspection/service notes, and in the alert description, to state which aspects you've done, and which are incomplete. This'll allow the remainder of the service / inspection to be performed ASAP, without someone else coming along and repeating what you've just done.
1. What is ToolFleet?
2. Logging in.
3. Finding what you're looking for, in the asset lists.
4. Logging information.
5. Raising 'alerts'.
6. Moving an asset, and putting an asset in-use / out-of-use.
7. What's 'Group' for?
8. What to do if you need help, or hit a technical difficulty.
9. A final word.